What follows is some 'thinking aloud' and 'speculation' or daydreaming to refer back to again some day. It seems poignant and fills me with a sense of wonder to consider. It's nothing that many have not felt before (and therefore is completely unoriginal)...

I used to believe the Greeks and Romans were the most suitable standard bearers for early great human achievement, but lately I have come to see them as eventually taking backwards steps along a long procession of development of the best attributes of Western civilization; balance, connection with the natural world, intellectual achievement that were all held in high regard...



Recently, I've come to consider the Etruscan and Ephesian civilizations and the immediate contemporary and preceeding eras as somehow more compelling examples of western civilization's very best, a more balanced integration of east and western philosophy/religion/world views... Of course, much of that comes from subscription to the mystery and mystique and romanticism of all the knowledge we have lost, and willfully overlooking the inevitable not-so-romantic flaws. Also I feel so upon reflection because theirs was a society that valued the contributions of men and women alike; patriarchal society was to set in after some future cultural apocalypse in the centuries after these precursor civilizations were at their heights.


(Circa 200 BC mosaics revealed at ancient Greek city of Zeugma in Turkey, 2014)

I feel as if it's possible to construct speculation that the entire world turned, somehow, in the wrong direction some time around 500-300 BC and by 300 AD the western fate of forgetting itself, darkness, widespread ignorance and isolation had been fully cast... For the successes of each one individual Galileo-type figure during this patriarchal dark age of suppression, there were surely nine others whose voices were squelched before they could progress the medieval world back toward enlightenment... You likely either had a powerful patron or were swept aside the moment you stuck out or seemed to threaten the status quo. Reminders of the richer past were appropriated at best and sacrilege to be smashed, at worst. Is it really much different today?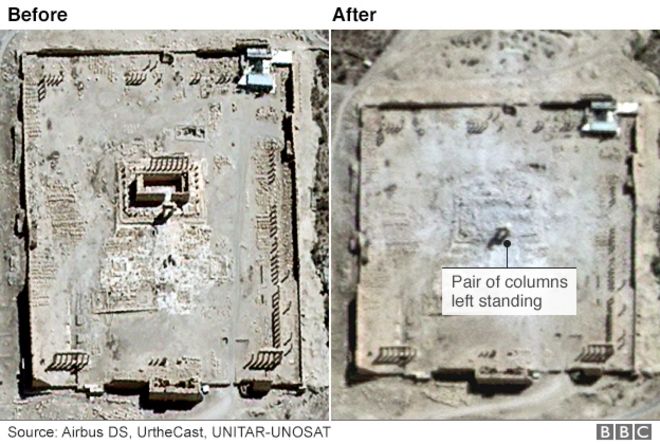 (

Satellite image of Palmyra showing destruction of the Temple of Bel

)

The Etruscans 'religion of the heavens' might have been an early natural philosophical sort of science/observation, based on astronomy and what they understood to be the natural order of the world... Given their achievements in medicine, art, architecture, and culture, it seems clear they were not the ignorant superstitious pagans later establishment authorities condemned them as, but instead were connected to a wider cultural current, one that was deeper, broader, and older than anything that replaced it. The Etruscans' philosophy and traditions and more comopolitan aesthetic were destined to be supplanted with cultures driven by religious institutions with hard authority over spiritual practice. The pieces missing from the wider human mythology before the common era leave tragic gaps in our knowledge today, but we know through scattered and shattered and buried pieces there was once a distinct cultural richness...


(
Vanth is a chthonic figure in Etruscan mythology...(and) almost always shown in Etruscan iconography to be a benevolent guide. Vanth has no real classical Greek counterpart
)
I don't know, I look at that era of time and feel wonder, and an expanded perspective on what followed and even on aspects of culture in today's world... I start feeling inspired to ask myself questions such as, "Are we in fact on the cusp of a new dark age?" Standing here in early 2016 AD and looking around the world from this present crossroads, it may be that this war over the control and determination for the future of mankind and civilization hasn't seen a more pivotal period for the future of cultural self-determination since the time of the founding of Constantinople... Or things may continue to stumble maniacally backward and forward, as they have for the past two millennia. Perhaps the Internet is the 'library' that could change that-- or perhaps it may be metaphorically burned of knowledge or otherwise restricted from use like some Library of Alexandria, as the strategic target for the creation of another brave new darkened world.

Can the Western world's religion, art, science, philosophy, and politics ever be recombined into a powerful, integrated, consistent, and collectively-shared whole once again, as they perhaps once were during these pre-classical heights of attainment? Alternately, are opposing memes writ large upon the world today too aggressively dominant and viral not to interfere harmfully in the long run with a return to this mode of civilization and balance? I'd say I'm hopelessly Romantic, but this is a pre-classical world I look back to, and it's an enjoyable daydream, an almost fantasy romanticism... and so many people have been here in some form or another before. It's a strange place to turn back from to consider today and tomorrow...
.